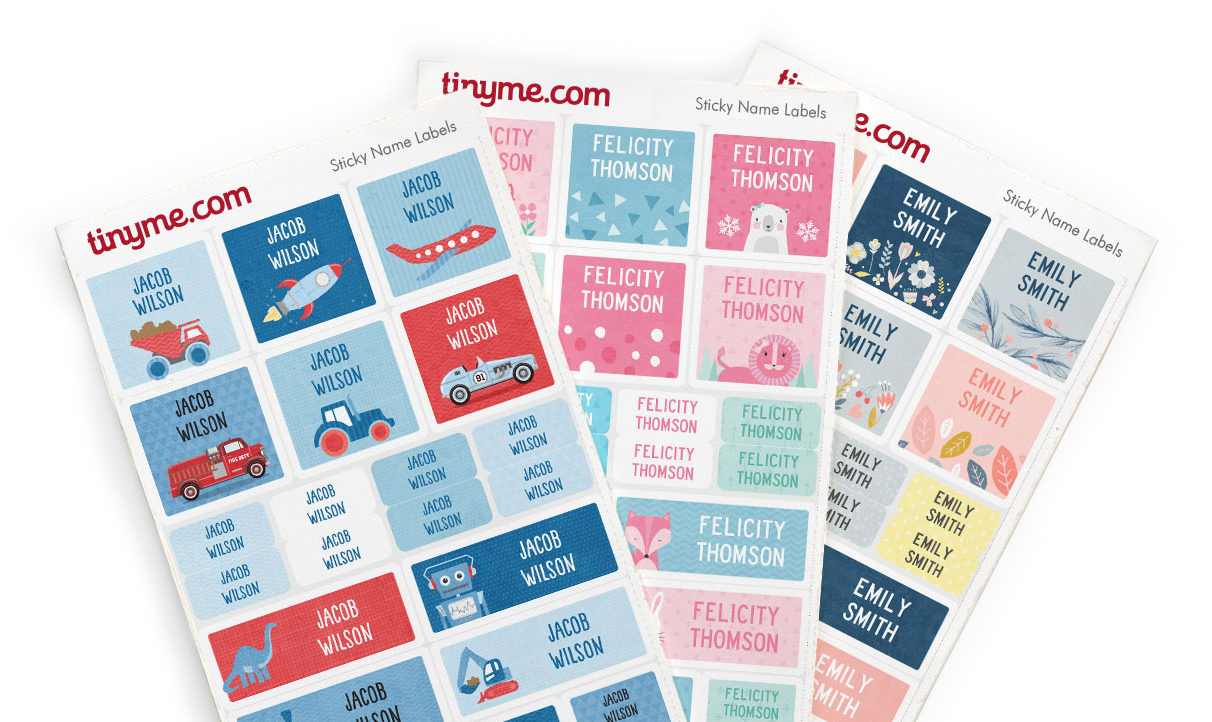 Books, bags, clothes, lunchboxes: you name it! Name labels are not only great for keeping track of your child's belongings, but they're also a great way of ensuring that your kids come home with the right gear. With our huge collection of premium name labels, you'll be able to label just about anything in sight — with style.
My customised order was perfect! Delivered on time. Easy ordering online. No complaints!
- Alexandra
Excellent labels, affordable price. Good discounts a lot of the time. Great packaging. Quick postage.
- Melinda
Their designs are beautiful. Labels are of high quality. Couldn't recommend enough to my mum friends.
- Karissa
Beautiful pastel coloured name stickers that my daughter absolutely adores.
- Sharlyn
---
Sending your little one off to camp can be hard enough without having to worry about whether their stuff will make it back home with them! Tinyme Camp Labels take all the stress out of packing, with Sticky Labels for sports equipment, toiletries, games etc. and easy to apply Iron-on Camp Clothing Labels for shirts, shorts, socks etc... You can label everything in sight! We even have special labels to go in your kiddo's shoes so they make it back to their owner every time.
All of our sticky labels are very durable and won't peel or fade. They're microwave, freezer and dishwasher safe as well as being super scratch resistant and waterproof. Practically indestructible... perfect for camp!
Our clothing labels come in all shapes and sizes so you can label every garment -the big and the small and will go through the washer and dryer no problem.
Plus, choosing your labels for camp from hundreds of design and color options is sure to be almost as much fun as the High Ropes course, kayaking and eating s'mores combined! (Subject to personal opinion of fun - we're pretty into labels.)
• 100s of design and color options.
• Conformable vinyl with super sticky adhesive.
• Printed at very high resolution in full color.
• Additional UV light cured gloss clear coating for additional scratch resistance.
• All our name labels will adhere to most smooth, hard, clean surfaces.
• Our labels are waterproof, dishwasher resistant and microwave safe.
• Note: the following surfaces may not be compatible: Plastics that contain high silicone (non stick), plastics with a greasy feel and plastics with a highly textured surface.